About 'Read the Episode': Sometimes we would rather skim visually instead of listening to a podcast! That's a great way to learn too! The transcript to episode 017 of The Crescendo Music Education Podcast is below.
---
Introduction
Tyler Swick is a music educator and performer living in Las Vegas, NV. He has presented on the topic of technology in music education at the NAMM, NAfME, IMES, Ti:ME, NSSBE conferences as well as state-level music education conferences. He was recently awarded the Heart of Education Award and is a Yamaha-featured "40 Under 40 Music Educator." Tyler is passionate about education and all things music, and you can find him on his YouTube Channel entitled, "Swick's Classroom."
Tyler Swick is not just a great educator, but also a performer. He has played at the Latin Grammys, Panorama, and even been featured in an international LG phone commercial. He's performed with Keith Urban, Logic, Mike Portnoy, Billy Sheehan, Bad Bunny, Stephen Perkins, Tracii Guns and can be heard on the upcoming video game, "Beyond Good and Evil 2." Swick's skills go beyond the music classroom- he's a world-class performer!
---
Episode 016 Transcript
Introduction from Debbie
Debbie
Here is The Crescendo Music Education Podcast, Episode 17.
This episode is the first part of a three part series. I had to chop this into three because our chat went for two hours and 20 minutes. Yes, you heard right, two hours and 20 minutes.
Now I just have to give you a little bit of background. First of all, I'll tell you this is a chat with a fellow called Tyler Swick. Now, I did not know Tyler and had not connected with him on social media until approximately an hour and a half before the interview. It's funny the way these things happen sometimes, fate, serendipity, I don't know.
I was working on my monthly Crescendo newsletter. Now, it was the very end of June and I hadn't got the June edition out. At the end of my newsletter, I like to just share something that I found on Pinterest or YouTube or something, maybe in the hope of uplifting someone else and their work or helping others. You know, not just pushing the Crescendo stuff.
I thought, 'Well, I found this YouTube channel, it was recommended on Facebook, I'm sure, I just can't remember where. I did a couple of the clips with my kids the last few weeks, I thought, I'm going to find one of them'. So I went in, where are they? Yeah, that's them. This channel, that's really cool. I'm gonna recommend this video.
Then I thought, well, I might actually find out what YouTube channel this is so I looked and it's Swick's Classroom. Okay, that's good. Let's find out who this person is, a lady, a man, whatever. Oh, okay, here he is. Oh, and here he is on Facebook. I'll just see if I can let him know that I'm going to pop something in my newsletter and link to his YouTube channel. And so I clicked and he happened to be online.
It was his Sunday night and my Monday morning. I'm on winter break as I'm recording this. After a little bit of chatting, we decided, yeah, let's do a podcast. An hour later, we were recording. Two hours and 20 minutes later, we stopped the recording. He just sounds like a fabulous educator. We had so much to talk about. I hope you enjoy my chat with Tyler Swick Part 1.
---
Introducing Tyler Swick
Debbie
I would like to welcome Tyler Swick to The Crescendo Music Education Podcast. Yay!
Tyler
Yay indeed! This is so fun.
Debbie
It really is. I'm going to start by reading your bio. I also should say straight out that I've not met Tyler before. We've just literally connected through Facebook and YouTube very recently. He sounds like an amazing person to talk to and I love his YouTube channel. I will read your bio and we'll go from there.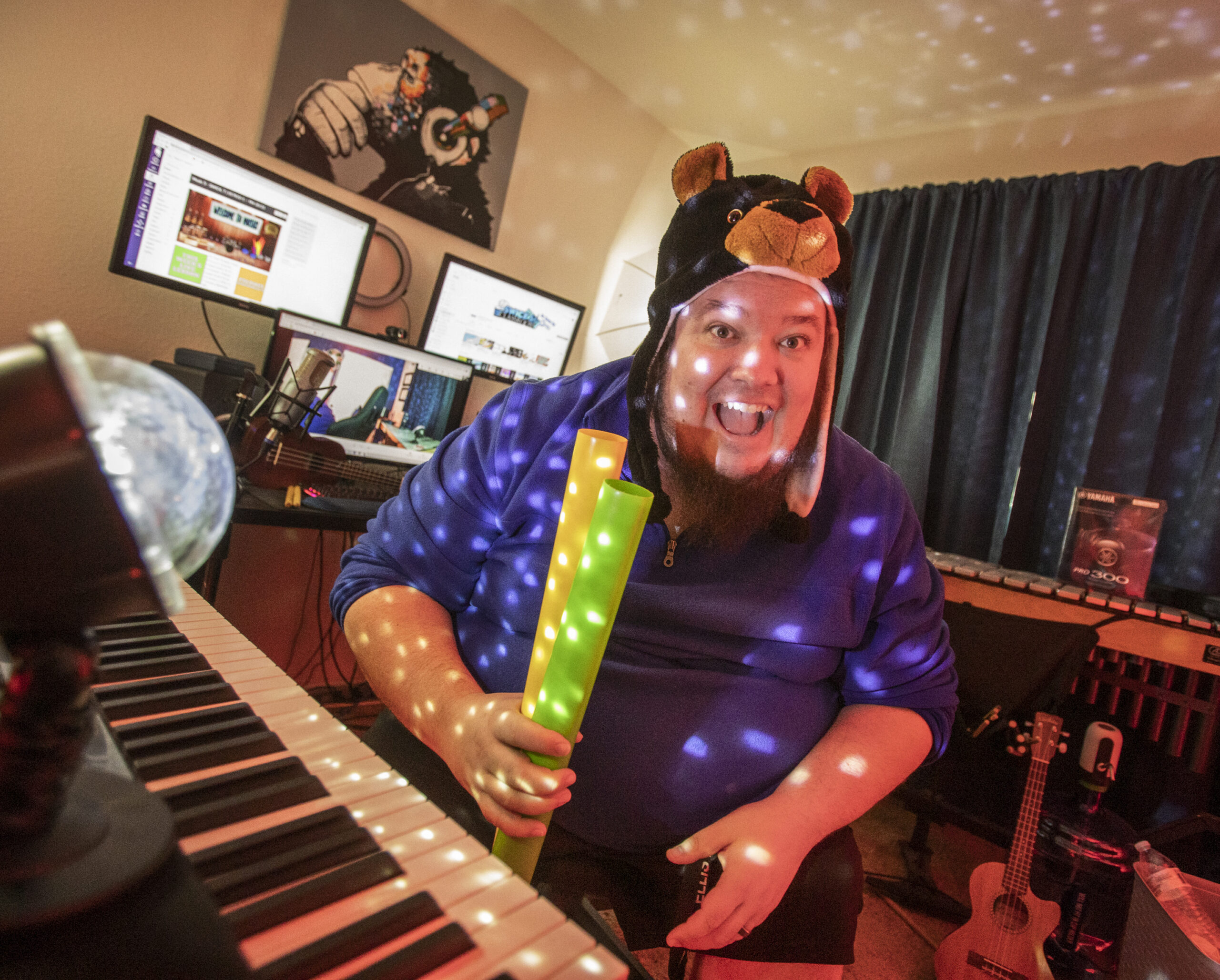 Tyler Swick's Bio
Tyler is an elementary music teacher in Las Vegas, Nevada where he runs an award winning music program of over 900 students and manages the popular YouTube channel, Swick's Classroom (which is how I found him). Swick is a member of the inaugural Yamaha "40 under 40 Music Educator Class" (he's gonna tell us about that in a bit because I don't know about that). He is the only elementary teacher to receive the Heart of Education Award, again you're gonna have to tell us about that.
Tyler
Happily, happily.
Debbie
It sounds amazing. Anything with heart and education in it, you know.
Tyler
Yes, absolutely. It's quite the combination.
Debbie
Love it. Swick has presented on the topic of technology in music education at NAMM, NAfME, IMES, Ti:ME, NSSBE, and state-level conferences. Outside of education he has performed at the Latin Grammys panorama and was featured in an international LG phone commercial. Yeah, well, we could just talk about all the stuff in that bio for probably two hours.
Tyler
So fun. Yeah, no, this is fun. See, I never looked at it through your eyes. You know, for me, it's like I'm trying to fit it all in a paragraph and I just enjoy that everything needs explanation. I need to write something better, I think.
Debbie
No, no, I think it's great. And I think when you're talking to your American colleagues, they'll all know straightaway what that's all about, Ooh, I know about NAfME. So I'm going to let you explain a couple of those things, please.
Tyler
Oh, happily. Swick's Classroom is my YouTube channel. I think that part is self explanatory. We'll probably dive into that more in a little bit. But the Yamaha "40 under 40 Music Educator Class" was a recent development, I think Yamaha is currently looking for their third round.
Now, they started this during the pandemic, which I thought was the best of times to start a motivator for teachers. The idea that you can be nominated, you're not supposed to nominate yourself, but you can be nominated by peers. They would review all the letters from across the United States. And they would whittle down 1000s, of nomination letters to only 40 music educators that deserve basically a recognition, a high five. Getting your picture on the website and your picture in the articles.
And then part of the acknowledgement was you got to write your own article about your own experience, maybe something you're really good at. And then it's going to start your relationship with Yamaha, which I think is also invaluable where, since then, I've been able to write more articles. I've been a writer for their educational suite, which is a huge resource filled with all these amazing articles from all these different educators from across the globe or the country, but it's basically a blog for educators.
And because I've enjoyed writing my own article, I've written many since then, and they're partly the reason why I presented at NAMM and NAfME and IMES, and Ti:ME as the Yamaha connection because then when they need an elementary music teacher, luckily I'm on the short list of elementary music teachers that they like to talk to.
Debbie
Oh fabulous! Well, we're gonna have to put all of these links, whatever you mentioned, we're going to have to stick in the show notes because I want to go look it up now.
Tyler
Yeah, I think that's the fun of it is that these are things where I didn't think about the scope of the globe. I guess that sounds like such a small minded effect. I'm usually trying to entertain my immediate world and so the idea of like, okay, maybe a simple link could solve and make a big connection here.
But the next thing in the bio, the Heart of Education Award, is an award based in Nevada alone. So it's a little bit misleading to make it sound like it's maybe a giant thing. In Nevada, we have the fifth largest school districts of all of the United States. So oddly, we're like right behind New York and like Houston and these big cities, because when they made their county lines, Nevada was very empty. So all of Southern Nevada is one school district, and it's about 2 million people.
Debbie
Wow. And so they must be like, lots of distance between schools or has it just become more dense?
Tyler
Uh yeah, so we started the center of Las Vegas and it's growing out rapidly. And just some fun recent news, we're running out of water. And so we'll see how much longer we keep up with that. But living in the desert, I don't think was intended for the human race. So we'll figure that out as we go.
The school district has about 40,000 teachers in it, of that, about 500 music teachers. And so out of those 40,000, every year, similar to the Yamaha thing, we are nominate our peers that we think are deserving of such recognition. And they select a group of 20 teachers every year to acknowledge and that could be anything from kindergarten to high school.
So all the K to 12 spectrum, it could be any positioning, the math, science, all that stuff. And so my kind of claim to fame until it goes away, is I'm the only elementary music teacher to receive the acknowledgement since it's been created. And so I'm gonna hold on to that. I'll cheer on the person that gets the second one, I'll gladly deleted from my bio, but until then I'm going to hold on to that.
Debbie
Yeah, absolutely. And, you know, there should be more elementary teachers represented. I'm sorry, we're the ones that do the important work.
Music Programs in the USA vs. Australia
Tyler
I couldn't agree with you more. Especially if they showed up to sixth grade, and again, in the United States, we do things I'd imagine differently. S
So let's jump into this real quick. We did K5 gen music, learn rhythms, learn note names, do some dance, do some movement, and then sixth grade, which is around 10 or 11 years old, they choose an instrument and they then join a traditional ensemble, like band, orchestra, choir. More recently, mariachi, jazz band fun things like that. But then that's the rest of their career in public school.
And so the elementary music teachers, in my opinion, we're the ones that either make or break music for hundreds of students. Where you get the entire population and then the band director in sixth grade gets only the students that said, "I like this so much. I signed up for it."
Debbie
Yes, wow. In Australia, we have the subject 'music' in high school. Well ideally, it's a lot of things, it's a bit of a mixed bag. I mean, the same way that I guess elementary or for us, that's primary, music is but there is usually a strand that is the same as primary music. So, you know, reading, writing, understanding music, generally not necessarily through music, or through choir. So it's a different system.
However, I agree with you that, it's these young ones, and it's reading, writing, learning to love music, you know? In all its forms and we're the ones that have them. So yeah, let's make the most of it. We should be nominating lots of primary people for this, sorry, elementary, you know I'm using those words synonymously. Yeah.
Tyler
Absolutely. I get it. Honestly, I love learning about what's going on everywhere else in Australia, I'm sure there are successes that I would desperately want to know about. And so any information I can get returned, I'll tear out as well.
Yeah, the conferences are the conferences, there are large conferences, NAMM is like the music merchants where they show off their new instruments. Just this last year, Yamaha did a fantastic presentation on the ecosystem, and how the music teacher supports the artist and the artist supports the industry and the industry in turn has to support the teacher.
And it's kinda like if we all do our part, music stays in one piece which there's kind of been a narrative for how long that music is failing or music is dying. And then simultaneously, it's like, we're kind of at our big point. Also, we seem to be growing without too much acknowledgement. I don't know if you feel the same way. It might be different but I know in Las Vegas, it seems to be alive and well. Do you have the same emotions in your area?
Debbie
That music generally is alive and well?
Tyler
Yeah, for Music Education. I think there was a narrative for a long time that it was dying and I feel like it's the opposite right now but I could be in my own bubble, you know?
Debbie
Well I hope, for your sake, that you're right. I generally am a very optimistic person but I feel we're in a little bit of a down here in Australia, because where I live in Queensland, since about the 70s. Oh, boy. Now, don't let me go on for too long here. Okay?
Tyler
I'm ready. I'm ready. This will be a three parter.
Debbie
Probably, so in Queensland, our state, which is a huge state. In the 70s, the Department of Education, put in music in primary schools, and they trained music educators to be specialist music teachers, in basically all of our primary schools. Even our little remote ones, teachers would go out and travel so that was set up and it was really unique and world leading.
So I started teaching in the 80s. And as general classroom saw what was happening in music and did some music major college and I want to do that. So then switched over and Queensland was this amazing example, okay, it's a bit patchy in other states. We're in, I don't wish to say too much politically, but we're struggling a little at the moment.
It's no longer the norm in every region in our state so we're having to justify, which is the wrong word. We're having to influence people of power to say how important music is. There's other states in Australia, where it still does exist, some that have been struggling since before the 70s. So it's a little bit patchy, I would say.
What we need to do is convince the people in power of how important music education is, for every child, not that it would be of benefit. Every child needs music education, they needed to be a well rounded, balanced person. They need it for social and emotional well being. They need it for their cognitive development.
It just should be part of what we do through our primary schools and I'm certainly doing my bit to influence people. Anyone who's listening who's got power, this is what we need. I'm really pleased that things are a bit rosy where you are at the moment.
Tyler
Yeah, and maybe it's like the optimist in me as well because I think you have to be an optimist to even want to be in education to begin with. Right? I think if you see things the way they are, education is one of the last places you would want to be. I think tech billionaire sounds like a cool job instead.
Debbie
I'll take that. Yeah.
The Power of Music
Tyler
Yeah, exactly. I'll sign up for a different road here. But yeah, I agree. When we use the verbage justify, and I know you kind of said like, I don't want to use that word, but I just so I agree with justify. Where we see exactly what the value is. We see the child that goes from being maybe a menace in your classroom, to a harmonious part of a community all through one song or one good music lesson.
And then you go to the parent teacher conference, and the teacher says, "this child's crazy". And then the PE teacher says, "this kid can't sit still". You go, their favorite song is this and they dance and they move and they play.
That connection that we see, we go, 'the world needs this', you know, this is meeting people on a level that we just can't document, we can't prove a lot of what it is because privacy issues, of course, you know, we can't say, "Hey, I just had a huge success with this seven year old and their name is this. And if you look into their life, you'll see it".
So I think it's just because it goes so undocumented, there's no actual proof of our successes. And so maybe that's why we are the optimist, because we see exactly what we're doing for some students.
I had a situation this year where a student was selectively quiet, I won't go as far as to say mute, but they didn't like to speak. It wasn't their jam. Jump to the end of the story, I introduced large bass drums that they could march with. Their marching bass drum is meant for young people. And this young student would just rail into the bass drum. And luckily, it was made for this so I wasn't like hold back, I was like, argh, give me some volume. That student went ham just went wild. And that became their favorite instrument.
That was the start of our relationship, for the first time they could express themselves through a boom, you know, and also, often we ask the students to be gentle and flowing and make the scarf flow and try to make sure you respect the xylophone. And this one moment where the student could unleash on an instrument.
That became one of the hardest students, they were a fifth grader so I had to say bye to them this year, and they're like two students this year that really, it just brought a tear to my eye to watch them leave. My biggest concern is what if the next teacher doesn't understand them the way I do. And that's maybe the hardest part of passing students off as you go.
Okay, I have a lifelong bond with a student after a year. And then I say bye. Alright, have fun, I hope I hope your next 30 teachers understand you as well as we do. That's a hard game to play. Yeah. And it's also one of those connections where we cannot measure that, there is no quantification for how well that student may do in the future because of that one bass drum. But I know, you know.
Debbie
Yes. And you know, you've got to have such belief in that, don't you? Because you hit so many walls and yes, it could be very easy to go under and walk away, very easy. So you got to believe in yourself. And you know, the other thing that certainly I've had to live by is to connect with like minded people. So that that helps to keep you buoyed.
To go to conferences, like you're talking about. To go to workshops, to interact on the right Facebook groups where people will give you advice and support. That's the other thing, believing in yourself and helping each other so that if you're a bit down, you've got someone that you can go to and go, 'I don't think I can do it anymore'.
Tyler
Yeah, and I think that's part of the beauty of what you do and what I do. And I'm gonna say we do this together, because we both have a YouTube channel. And yet, we're both trying to create content, and maybe in one of the hardest times of education.
You know, I say music education is booming and I think music is booming, because we're actually in person, which is why I'm really excited. But in United States, it was very selective of who had to go home and who didn't, and who lost contact with their students who had to teach online. I was in a district that went online for a long time and so when we were online, of course, I felt like I was an awful music teacher.
And that's when I started creating all this content. I look at your YouTube channel and it looks very similar. Where it's like you're creating things that you needed and then everyone who finds it goes, 'Oh, my goodness, I need this too'. And so you kind of become this ally, where it's like you're sharing your best practices.
And then other people are allowed to make that their norm. Which doesn't that kind of raise the bar for the whole community? When it's like your best lesson becomes used in hundreds of classrooms.
Debbie
Yeah. That's amazing, isn't it? That you're able to help and support all of those music teachers. That's like, yes, winning.
Tyler Swick's Youtube Channel
Tyler
Yeah, absolutely. And we look at views. YouTube views are very skewed. Very popular YouTubers get millions of views a day. Yeah, yeah. But as music teachers, every view is potentially a classroom that just gained something from you.
And I think that's what's exciting is that like, we can't measure ourselves in like did this video get 10,000 views? You know, my favorite songs on my channel have very few, like comparison, but I go okay, if it was 600 views on a video and I thought was super helpful I think okay, at least that was like 200 classrooms maybe.
And that feeling just gets me going like, "Yes, you actually made something someone else finds maybe helpful and maybe it was a hard day. Maybe it was their worst day of teaching ever and they put on the video, maybe they're absent and they told the substitute, "hey, I'm not there, play this video".
I see the same thing on your channel or your most viewed video was like a clap along to drumset. And it's such a useful tool where it's like, we didn't think about that. I want to say as shortest five years ago, maybe 10 years ago, it just didn't exist. You couldn't, for free, go and find a video that had elementary rhythms or primary rhythms on the screen, and a fun beat for students to play along to.
And it's like now it's for free. We can make our own however we please. Maybe that's part of why I think this is a very exciting time, because access to good information is getting a lot easier. I think it was behind a paywall previously, or you had to go and get a fancy training somewhere, you know, attend a summer camp.
And I was always skeptical of like, if you want me to be good at my job, why do I have to pay to get better at my job? You know, does a banker pay for a summer course and how to be a better banker? I don't think they do but the music teacher, for some reason, has to.
Debbie
Yes, yes. I hear you. I think one of the first times I used your channel fairly recently, one of the little girls came straight up to me and said, "Please, can we use Boomwhackers? We haven't for ages, please?" I think though about grade four or five so equivalent to yours.
We go to grade six in primary school so they're like 11. Prep 4 to 11 year olds is our primary school. So I said, "Oh, this oh, there's a lot I really need…. Oh, sure". And she just got so excited and then the ripple went through and right. Okay, YouTube "Boomwhackers". You know, like, obviously I've used but I just said, no, I want to do something new and I came across one of yours and went click. (had just a quick look, okay good). Get those here. Don't get the ones with the white writing, get the ones with the black on the sticker.
Because we don't want the chromatics and they've got white riding on the stickers. I've just got them in big tubs so they went and grabbed them. Can we have these big ones? Yes, but only if you call them bass. Okay? So they grabbed them all and then we just played and you know, it's having those resources at your fingertips.
It was not part of my lesson plan. It was joyous. I'm pleased I did it. And you've got to make those calls all the time as a music teacher, don't you? When they say let's sing this? And sometimes you've got to say, "Uh, look, I'm sorry, we really got to get this done cause reports are due soon" and you've got to know this and that, it's reality. And those upper kids I only have for half an hour every week. One half an hour. That's it.
Tyler
Wow. Whoa!
Debbie
Yeah. That's sort of a standard here. Yeah and I'm lucky. I'm at a school that values music. So for my prep, which is when they turn five. So prep year 1, 2, 3, I have twice a week for half an hour, and my 4, 5, 6's once.
Everywhere else, unless you're in a private school, like an independent school. In state schools, half an hour a week is sort of the best you'll get. So when you've only got 30 minutes, you've got to think about how you spend that time.
Tyler
Of course, it's got to be very dense, I imagine.
Debbie
Very dense, but not so dense that you confuse the kids. And then you've got public holidays, sports days, excursions, sore throat days. So I actually think of my job a little bit like Chinese water torture. You go drip, drip, drip over a long time, then you might eventually make some impact.
Tyler
Absolutely. That's exactly right. The power of just that little drop of water and the repetition. I'm wrapping my head around it. So the younger students do get an hour but not in one sitting.
Debbie
Yeah, that's my request because it's obviously going to be much more powerful to practice those concepts twice a week, not once in a hit. It's like when you learn an instrument, you're not going to be as effective if you're doing your practice an hour the day before a lesson. Better if you have 10 minutes a day, you know?
Tyler
Absolutely. That is interesting, so we have 50 minute blocks for every student to come once. I know it seems like a big deal of like 30 minutes versus 50 but if I have a 50 minute lesson and a class is five minutes late, I act like they've ruined my day. I feel like if 50, I have maybe three minutes to waste, you can walk in, you could sit down, and we're gonna line up with maybe 90 seconds before your teachers here. And like, everything else is like, dense hardcore.
So the thing 30 in my mind, it's like, whoa, if you took away 20 minutes of what I think is normal, I know you can't, you have to come in and walk to an instrument and don't talk, here we go. I think a lot of what we do is so pressure releasing from the classroom, I don't know what morale is like in the classroom there but I know for here, it's like, they are very, I don't know the right word, focus, I don't know if they're silent, but they're quiet ish.
And then they go to your classroom, it's the first social experience they have the day, and you're balancing how many music standards can I shove into a lesson. Are they allowed to speak with each other? Are they allowed to freestyle and express themselves? Or is it is it a very strict experience?
Video is a Powerful Classroom Management and Timing Tool
Tyler
It's really interesting, because we did the videos, what I like about the videos of Boomwhackers is it's very dense in that you walk in, I press play, and they're playing, we're going right into it. And because it's kind of entertaining enough, the social element can occur. But there's still a focus on the screen, we can laugh, someone could mess up, someone could tell a joke, and everyone else can laugh and still like haha, and still play along.
And so that's what I liked about it. But I kind of found it a good intro, welcome the videos already playing. And I think there's something, I don't know how long it's gonna be until someone does a study on the psychology of why a video is so effective, but when I made my first video, my argument to my students was that they paid more attention to 'video me' than 'real me'.
There is something about if you don't hear what I said, I'm not repeating it in the video, the video is on track. It's not going to stop, it's not gonna turn around. It's not gonna say what it said twice; it's not gonna slow down for you, it's gonna go.
But in person, teachers will say it three times, we'll come closer to you. We'll use proximity of all of our techniques, but for some reason, because the video cannot respect them in return, they for some reason, give it a ton of focus. Yeah, yeah. And so I just find when they come in the room to a video, it's like (snap).
I think a long time ago videos were kind of a bad idea, videos when I was a youth or watching cartoons like educational cartoons, but it wasn't on par with the lesson. A lot of times it was a time killer, a space taker, and a teacher's lesson to like wheel in the TV.
But now it's like we have a lot more access, I think, to videos that are on right on topic of what we plan to do that day. Hey, today we're introducing titi ta, I found a boom whacker video that's filled with titi's, you're gonna play 100 of them, and then we're gonna talk about it. It's like, press play and everyone's focused because the video will leave you behind. I won't but the video will.
Debbie
Yeah, I love it. That's a great way to think about it. And yes, I agree, having a video as they walk in, you've got zero dead time. The other thing is, I always have some sort of video as they walk in, whether it's a song they love and they're just gonna sing it.
I use it for two ways, either something you play or something you sing and play or just play. If they come in with baggage. Right? The littler ones just had a fight over who's the line leader. Or you know, someone's just kicked someone on the way in or whatever. They come in with baggage, right? They walk in that door, if you've got a video on that they really want to participate in. There going to forget that stuff. They're gonna leave baggage at the door.
"Oh, that's right. It's music, here. We sing, we play here, we respect each other." Hopefully, they think that and they just get straight into it. It engages them visually, and orally, and kinesthetically. You've got them and then it sets you up for your lesson. I think it does so many things.
And if I do a video, that's a song they know, for example, rather than a play along. I do little workbooks that I've made myself. Okay, before they come in, we need workbooks and pencils. Come on in. So the kids straightaway, they're sitting and singing, the little kids with jobs are running around doing the jobs, video finishes. We're ready to do our writing, put the stuff away. It's just efficient, I think.
Tyler
Absolutely, yes. And if they know the song, then they know 'oh, we're getting close to the end. I need to stop lollygagging and get over to where we're supposed to be'.
Debbie
Yeah, exactly. Love it. Oh, I love that word. What's that word?
Tyler
Lollygagging? Let me look it up, I've always understood it as….yeah, to spend time aimlessly. Yeah. I'm glad that doesn't have any misconceived definition, excellent.
Debbie
Did you check the Urban Dictionary?
Tyler
I just did, just wanted to make sure that I'm in the clear. Yeah. That's fun. But I love that idea. And I tried to make an exit song. I'm a hardcore clock watcher and it's like, when I have four minutes left, can I press play on a video, and it says, "pick up your mallets, put away the…".
I just found that all too often, I was trying to squeeze as much education out of the last minute that I didn't have the patience to take away minutes for myself. I like the idea of starting with one and having something that is just consistent. Having matched the holidays even.
I like that concept so students know, you have about two minutes to get in, get set, find your space, find your mallets whatever it is, or your books. Then when the song is over..right in the education, you know, get your last sentence in with your friend and here we go.
Debbie
Very fun. I love it. Now, your YouTube channel, I've only had a cursory look. Boomwhackers obviously, predominant. Tell us generally about the channel. We've got an idea of why you made it so tell us about what's in it and how you make the videos. That question is huge.
How Tyler Swick Got Started on Youtube
Tyler
Yeah, absolutely. Put a timer on for like 15 minutes. Here I go. Back to the why. The real why is, I was very fortunate, my wife and I were welcoming our first child on this planet. I needed to take time off to just spend time at home for paternity leave, and I was gonna take three weeks off. I got this wonderful substitute but the substitute was not a musical substitute. They were fantastic and that the students knew this person, respected this person but they could not go through a music lesson no matter how well written out it was.
So I decided to make a video of me teaching a lesson where you had a downward camera on the xylophone and you can see my hands do it. I said, now it's your turn. And then my hands are doing this and I will do it at a faster speed. Keep the speed up and by the end that was kind of a fun song with beat behind it. That was the first video I put up on this channel with music education in mind.
And so by the end of the school year had like 100 views, I was like cool people, my substitute teacher used it, I liked it. By the end of the next year it had a couple of 1000 views. I realized that other teachers were using the lessons that I had created for my paternity leave. And that's what I knew, like there's not a market here, but there's a demand for videos that are easy to play.
Hilariously, the technology was the issue. If I wouldn't give a video to my substitute, I'd either have to share my school password, which is a no, no, you're not supposed to do that. You couldn't email videos at the time and our school did not pay for a cloud service yet. The cloud services were still around but our district didn't have cloud service yet.
So YouTube was the only thing that made sense. I can send a YouTube link in an email and say, "Please show this video" and there's a 20 minute video of me teaching xylophone. And so when it got 1000 views, I thought, 'Okay, I need to make a lot more of these'. I made about three or four of them before I lost steam. One of my downfalls that you'll find is that I lose interest in things.
Debbie
Look, there's a nice, shiny object over there.
Tyler
Yeah, correct. 100% As part of my up and down is that I will commit to 100% and the second I'm not amused anymore, I'm done doing it, which is why there hasn't been a new boomwhacker video in like, three months.
But then it just turned into I love to write funny songs. I love to make videos where students could listen to him at home. I thought so many elements of school go home with the student. The backpack goes home with you. The math homework goes home with you. And then if you need help, in the United States there's like math hotlines. We can call in or go on the internet and they'll help you do your math homework. I felt like, is there a music equivalent?
And I just went with the idea of what if everything we did in the music classroom was on YouTube for a student to check out at home. Hey, you love this song that you only got 30 minutes of, you can continue to listen to it and interact with it at home. And in fact, here are the notes on the screen. So if you own a guitar, you own a piano and then that ever went away because digital instruments became a thing during quarantine, where you could Google 'playable piano' and there are websites where you can play piano online.
All of a sudden I had students going home and learning songs we would do during class they learned how to play it on a piano, they come back to school the next week gonna go, "Mr. Slick, I just learned how to play that song from last week". And I'm going, 'Wow, they did like music homework'. Because they wanted to 100%. I thought that's something that I never thought about. I'm sure many people thought about, but the idea of musical homework had never crossed my mind.
The idea of you could go home, you might own instrument, you might not. But then the internet kind of did away with that problem. And there's so many ways to create music online for free these day, post COVID or post quarantine I should say. And so now it's like the idea of you can do a lot of music at home is common, I'll say.
So I had this idea and I want to say it was very John Lennon and Paul McCartney. I woke up the same way he woke up and he had the tune of "Yesterday" in his head. I woke up and I said, 'What if dots fell from the top of the screen, the same when they're doing Guitar Hero, and they're color coded for Boomwhackers'. And I just thought I've seen this before. I know it exists elsewhere. There's piano tutorials where the dots fall down. It looks like the video game Guitar Hero, which was popular 15 years ago, this is nothing new.
But just what if it was assigned to elementary music? What if it was with the beginning student in mind, because there are 1000s of piano tutorials where it's like, so many dots falling down. It's more of entertainment than educational because I can't even follow it and I played piano.
But anyway, so one year ago I posted a video where the dots fell down. It was just a warm up. You hit twice, you hit twice, you hit twice. It was one of my lowest performing videos I had posted that year.
Debbie
Oh no!
Tyler
I said experiment over! This is pointless. I'm done and I moved on. I created a podcast two to three weeks later. And I did like 7 episodes of a podcast. I'm looking at my own YouTube channel looking at my interest and how they fluctuated. I started a podcast, wrote a couple songs.
Then five months ago, I had this idea when we went back, we couldn't really share instruments we had our own little guidelines about they can touch this, they can't touch that, they need mask, they need gloves and you spray however and so I have this idea that students already can hold Boomwhackers, they have a Boomwhacker.
What if they could spell numbers or letters or words with their Boomwacker on the floor. The idea is that they're not trading, the student is still responsible for maybe their two Boomwhackers, they're the only ones who are allowed to touch them with your neighbor. Can you spell a "W"? And so I made a couple of videos just for spelling.
This sounds hilarious. It sounds very vindictive, which I think is the word to use. I posted a video of that on one of the Facebook groups of like 40,000 music teachers in this group. And I said, here's a video to use when your students are tired of playing Boomwhackers, something like that? Because in my world, they're playing Boomwhackers all the time and they get bored of it.
So I was like, well what if we do a spelling game and they do letters, numbers, and things? The first comment was a person who said like, "Why would students get tired of playing music, they only get it such a little time and if they're tired of music…". And it was a little bit angry. There's a little bit of anger of like, why are they tired of Boomwhackers? And in my mind, I said I'll show you why they're tired of boom whackers.
The next day I posted 4 Boomwhacker videos of the dots falling down and playing along. And luckily, we don't talk about Bruno had come out recently and I put that video up. It took off! It had all the hashtags, it had all the metadata, whatever, it went out, and people used it immediately.
And so the success of that one video being watched, I put out an Encanto video a day, where I was like, Okay, We Don't Talk About Bruno, Surface Pressure, The Family Madrigal of Colombia, and each of them doing successful in their own ways and launching and saying 'okay, this is the future'. That video I put out a year ago was now getting a couple of 1000 views a day. And I went "Aha!", it was just a little too early.
Debbie
Thank you for joining me for this podcast. Don't forget you'll find the show notes and transcript and all sorts of information on crescendo.com.au. If you've enjoyed the podcast or found it valuable, you might like to rate it on your podcast player and leave a review. I'd really Appreciate it if you did. All I can be is the best version of me. All you can do is be the best you. Until next time, bye.
---
Links Mentioned in Part 1 of Technology in Music Education:
Where to find me:
Subscribe To Our Blog
For the latest tips and tricks from Crescendo Music Education, fill out your details below and hit Subscribe... you will happy you did!
Introduction This is the Crescendo Music Education Podcast - Episode...